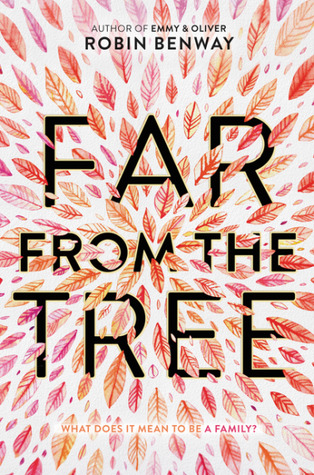 Far from the Tree
Far from the Tree
is a contemporary (YA) Young Adult novel about three teenage siblings that had each been adopted and living with three different families. They find each other when the only sibling adopted at birth Grace found herself faced with a unplanned pregnancy and the desire to want to find her birth mother. Maya the youngest sibling is experiencing life with her first girlfriend and a dysfunctional/alcoholic mother of her own. Joaquin, the oldest of them both, living in a family that genuinely loves him, struggles with believing that can be true. Will these three siblings bond and find equal ground to want to find their birth mother?

I loved reading
Far from the Tree!
This book had both a remembrance that was familiar to me of being a teenager and an uninhabited closer look at adoption of three teenagers. All three teenagers were siblings whom had each been placed in the care of three different families at an early age. I'd definitely recommend this book to anyone that loves a good book about love, family and coming of age.
If I had to say something that I did not like I guess I'd say that Joaquin's expression of what his emotional conflict was could have been quicker to get to. I would often times feel like I was drowning in his wallowing of emotions. I kept trying to figure out what the issue was to the point that I just didn't care anymore. When we finally learn that his mistrust of others love and his feeling of not deserving to be loved finally come out I felt disappointed that this wasn't made known earlier.

I thought the story was especially strong in discussing family. The author illustrated each of their current family lives and then the coming together of them all to create another family. This book divulged lots of emotion for me deeper than other books I've read to the point of bringing me to tears. I also especially loved all the many themes: adoption, foster care, alcoholism, divorce, immigration, teen pregnancy. Each of these themes were brought to life in the book that I felt like I could imagine myself as each character. This was my first book that I read by Robin Benway and I was beyond impressed.
You can follow my reading on Goodreads.
https://www.goodreads.com/book/show/33830437-far-from-the-tree?from_search=true